Hi Anita ,
A lot of networking and training events show up in our email boxes, social media feeds and conversations. How do we choose where to invest our most precious commodity, our time?
When is the last time you spent a part of your morning with the world's #1 leadership expert, John C. Maxwell? Or Fortune magazines #1 ranked CEO in the world, Cheryl Bachelder? Or America's trusted voice on money, Dave Ramsey? Or a pro-bowl former NFL star and community leader, Warrick Dunn?
But first, back to choosing our investments!
Investments
Considering investments, we make many with our time, money and energy to create wealth in all areas of our lives. Some good, some not so good!
One of the most important shifts in a business owner's or leader's thinking and behavior is the one that goes from working harder to make money to making money work harder. The more efficiently earned income is converted into portfolio or passive income, the greater the opportunity to accelerate wealth and personal income. (Did I tell you Dave Ramsey is speaking?!)
Traditionally, there are four main categories of wealth-creating investment vehicles:
Owning a business
Property/real estate
Stocks, shares & bonds
Precious metals
None of them should be entered into without an appropriate level of education. Sadly most people do enter in without knowledge. I've learned from personal experience just how painful ignorance can be.
But there's something missing from that list.
Something so fundamental it impacts everything else - the ultimate investment that makes all other investments possible; the investment in improving how you think.
It's a tragedy that many people are oblivious to the wealth within, because every result on the outside can only reflect what's going on in the inside.
Napoleon Hill tellingly observed: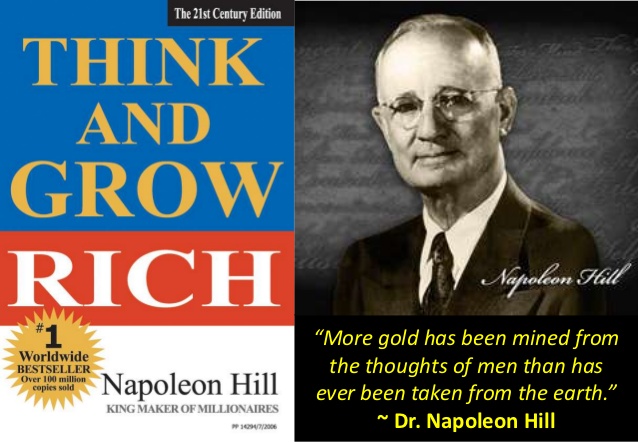 Gold rises and falls in value.
Gold mines become exhausted.
Businesses fail.
Stock markets plummet.
Property investments can cost you your shirt.
But a well-fed mind, constantly stretched to improve how it thinks, never runs dry. It delivers magnificent returns, over and over and over again. If the impact of a well-fed, thinking mind was accurately measured, no one would hesitate to invest in the process that improves it.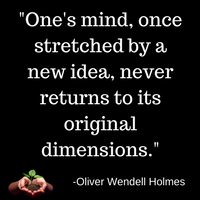 Our mind: It's the ultimate investment vehicle.
As American physician Oliver Wendell Homes put it - "One's mind, once stretched by a new idea, never retains its original dimensions."
Neither do the results it produces.
If you want bigger and better results in your life, you need to work at the cause of the effect. You need to engage in an ongoing, frequent and proven process deliberately structured to improve your thinking. Whether you call that leadership conversations, leadership development, executive coaching, or networking - it all starts from within, your intention to grow! To achieve. To live a life of significance.
You need to go within to untapped possibilities. If you fail to go within, you will go without.
You're invited to experience invaluable expertise and leadership lessons by joining us in Jacksonville's first Live2Lead live simulcast event being held on October 6th.
When you join us, you'll not go without the opportunity to feed your mind, your network, and your business.
Four remarkable leaders will lead conversational lectures via the live simulcast.
Dr. John C. Maxwell, the world's #1 leadership expert and best selling author of over 100 leadership books, training 6 million leaders worldwide, will speak to: "No Limits: Blow the CAP off your Capacity" and

"What All Leaders Have in Common."

Dave Ramsey, a business man and motivational speaker has helped thousands of people get out of their debt and lead themselves into a healthier and more sustainable lifestyle. He shares

EntreLeadership

, 20 years of real-world experience with all the sweat, tears and prayers. This is how his company has been named one of the Best Places to Work in Nashville ten times. It's proven. It's practical. And it's how you can do it too. His topic is "Leadership Defined".
Cheryl Bachelder, the Former CEO of Popeyes and author of the leadership book

"Dare to Serve"

based on Servant Leadership. She is ranked #1 on INC magazine's world's top 10 CEOs. Ms. Bachelder and her team created a workplace where people were treated with respect and dignity yet challenged to perform at the highest level. Silos and self were set aside in favor of collaboration and team play. And the results were measured with rigor and discipline. Learn qualities and attributes of strong and effective leadership from a proven successful CEO in her topic "Dare to Serve".
Warrick Dunn, Pro Bowl former star NFL Running Back for the Tampa Bay Buccaneers and the Atlanta Falcons and a philanthropist bringing hope to others through his charities impacting countless communities. Learn what leadership looks like through adversity and gain key takeaways from someone who chose to take a life of despair and make a life of hope. Mr. Dunn tells his extraordinary story in

"Running for My Life,"

a poignant and inspirational true tale of tragedy, success, depression, denial, and ultimately, hope.
And?
Our goal, as Possible Conversations, LLC, is to bring you leadership lessons from the world's #1 leadership expert, John C. Maxwell, and his inner circle of highly successful friends.
I bet you know a restaurant or bar near you that bought the rights to MacGregor/Mayweather fight last weekend. Well, we bought the rights to an event that will be equally exciting, but in a different way. There will be less blood, but just as much passion!
You could join this event LIVE in Atlanta for several hundred dollars plus travel expenses, OR, all of this can be yours for the ridiculously low investment of less than $100 for a half-day leadership event.
Think of it as the difference between flying to Vegas for the fight, or watching it here.
We are The John Maxwell Team right here in Jacksonville, Fl. and we are bringing this event to the Lexington Hotel on October 6th!
Our goal is to add value to you, a person of value.
We promise you that Live2Lead will add value to your day in a way that will have you thinking all the way back to your office (and quite possibly through the weekend!).
This is your personal invitation to invest in yourself, and in members of your team, too. Company tables are an even more incredible value at only $65 per person for a table of 8 when you take advantage of the early bird discount.
Register today - let's stretch our minds together! Will you Live2Lead?
So, if the proverbial penny is ready to drop, you must act now before the tables are sold out - don't let the clock, or "sold out," beat you!
And we hope you'll choose to stay afterwards, joining us for lunch and an hour of additional leadership conversation for the premium experience, for an extra $32. We predict powerful insights and takeaways will multiply over lunch!
Doors will close and registration ends once 8 tables are full. And the live simulcast event won't be back again until the fall of 2018.
This is the link you need.
This is the video that tells you more about the speakers! Click here.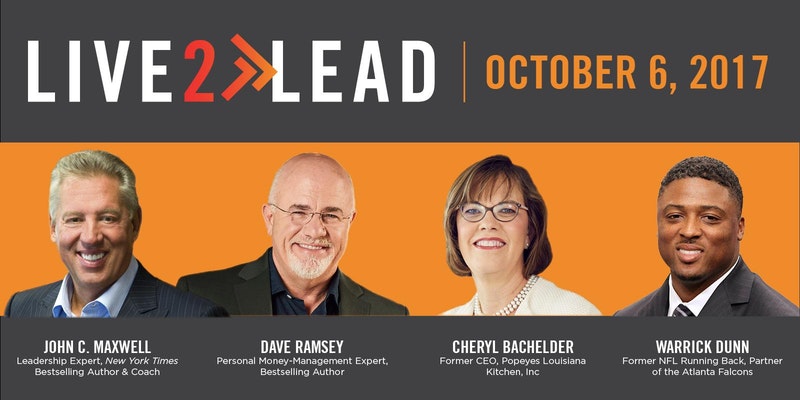 Warmly,
Anita
P.S. Limited sponsorships are available, providing you the opportunity to share your organization's services and products with the attendees!
P.P.S. If you're not in Jacksonville on October 6th, let's talk about bringing all or part the replay of this Live2Lead event to your organization and/or your clients. It's an experience not to be missed! And we can offer it through March 31, 2018.
CEU's are offered to attendees of the full Live2Lead event!