November 1st - this is a great time for business leaders to take stock of the current year to date, plan the priorities for the final few months, and begin preparation for the new year.
Many leaders actually take stock in December - with a rush to to get the desired final numbers on the scoreboard.
It doesn't have to be that way.
You still have time to prioritize the final play for 2019 and begin to prepare the playbook for 2020 - using The Law of Priorities.
"It is the responsibility of leaders to make tough decisions based on priorities." - John Maxwell
---
How does a leader end the year well?
First. Let go. Prioritize. The Rule of 3.
Apply the rule of 3.
What are the 3 most important initiatives (must-do's), that if you get laser focused, will help you win the 2019 game of business?
What must you accomplish before year end?
This can be challenging for many of us, as we may decide to push on all fronts in an attempt to make up for lost time - going into overdrive - resulting in stress and burnout during the holiday season. Not to mention it can set us up for the new year unprepared.
Jot down YOUR 3 must-do's here - and discuss it with your team:
______________________ 2. _____________________ 3. _____________________
---
Then, Establish Quarter 1 Goals, Now
Now, apply the rule of four using a Balanced Scorecard to get the right results on your Scoreboard.
What are the four main initiatives you must accomplish in the first quarter of next year for each of the following categories? And how will you measure success (the goal)?
For you culture and employees?
For your business process excellence?
For your customers?
For your profitable sales or cash flow if you're a nonprofit organization?

The service profit chain tells us that when we have an engaging, people focused culture supported by the right resources including technology, operating systems, practices and procedures which in turn empower the delivery of great product and service to our customers - profitable sales will follow.
"Anyone who looks at things solely in terms of factors that can easily be quantified is missing the heart of business, which is people." - Herb Kelleher, Southwest Airlines
We've probably all worked for the leader, who at the last minute in early November, sends out a number of directives and emails to the team with the hundreds of projects and new year plans (ok, for small companies, that's an exaggeration), many which are expected to be completed by January 1st.
This leader has now cleared their to do list, and can get on with the holiday season. But have they created a positive experience for the team? Or have they added a burden of stress while ushering in the December holidays?
---
Build in the time now to plan your first quarter - and begin the January kickoff with a thought-out playbook.
Often, long-term planning works best in the short term - being agile enough to adjust with the uncertainty of change.
THe Game of Business is Played over 4 Quarters
The scoreboard is essential to evaluating performance at any given time, and is vital to decision-making.
At the beginning of the game: The game playbook is important and the scoreboard means nothing.
As the game goes on: The playbook means less and less but the scoreboard becomes more significant. WHY? Because the game is constantly changing.
The playbook tells you what you want to happen, but the scoreboard is telling you what is happening.
Before each new quarter, rinse and repeat!
How successfully were the playbook strategies applied?

What adjustments need to be made, or new initiatives considered, going into the next quarter.
This practice habitually applied, will help the team complete agreed-to plays at a pace that allows for less team stress, higher quality, and better customer service and product delivery.
---
How Will Your Team Plan and Play?
Now that you have your playbook and goals, what's needed to achieve them?
This is where the planners and detailers on your team (the S- and C-wired individuals) can help you lay out an efficient plan that addresses the important details. (We're applying DiSC now!)
While planning will take a bit of time, it can save even more.
When a D-wired leader initiates a goal or an I-wired leader shares an idea and then allows the S- and C-wired individuals to plan, it creates a powerful productivity machine that produces new products or services, with good results and high quality - all in a cost- and time-effective manner.
This is the power of a team. Enlist your team to help you assess needs and create a plan of action. Just as steam can power a locomotive to carry it to its destination; the power of a team can carry an organization to success.
---
Empower Effectively
Set your team up for success. What fits best for each individual?
One leader referred to his team as "chairs on a deck," the idea being that they were interchangeable and easily replaced. With such thinking, he inadvertently set each person up for failure and created a turnover problem. He was having to replace employee after employee because they would feel devalued and leave for better opportunities - where their contributions were valued.
The fact is, each individual on your team brings unique strengths, skills, experience, and connections. A great leader will value each person for who they are and will ensure they have the tools and development that sets each person up for success. And, they will intentionally identify experiences that will stretch and grow each person on the team into their higher potential.
---
Here's One Idea, It's Not the Only Idea
One of your initial goals for next year could be to learn the strengths of each individual on your team and to find a way to set them up for success. When each person succeeds, it creates compounded success across the team.
Or your team could be ready to learn and apply the 5 behaviors of a cohesive team: Building Trust, Mastering Conflict, Achieving Commitment, Embracing Accountability, and Focusing on Results.
---
Today
Take some time to reflect on your team and on ways you can intentionally build leaders while rising together, as one team.

Write down and share the three most important initiatives you'll ask your team to focus on for the remainder of the year.
Work with your team to establish Quarter 1 goals, now.
And then meet with your team (way before December), lay out the plan, empower effectively, and get those results up on your quarter 4, year-ending scoreboard!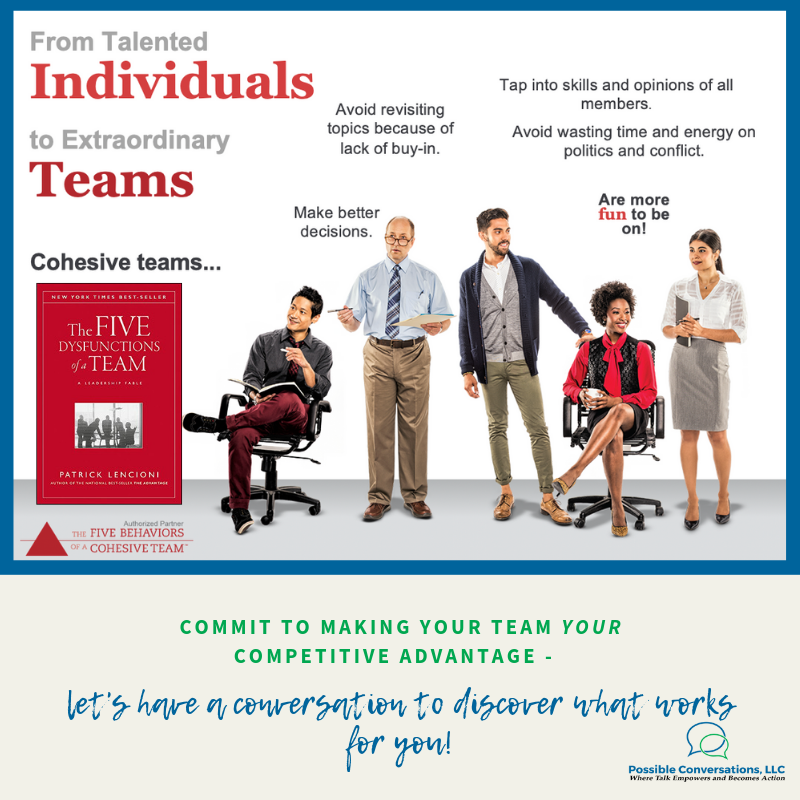 For more resources on how you can develop talented individuals and extraordinary teams in 2020, and get amazing results, click here to learn about our coaching, leadership trainings, assessments, and consulting.